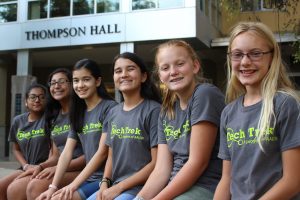 2019 UC Davis Tech Trek
Tech Trek is a week-long AAUW STEM (Science/ Technology/ Engineering/Math) summer camp for girls who have just finished seventh grade. The Tech Trek program was created in California in 1998 by Marie Wolbach  who, with the help of an AAUW Community Action Grant, founded the first Tech Trek camp in California. Scholarships are given each year by our AAUW branch to girls who have been recommended by their teachers to compete for the scholarships.   Over the years our branch has sent more than 60 girls to Tech Trek. Throughout California there are Tech Trek camps which take place at different California universities each summer.  Our girls now attend Tech Trek UC Davis.
For questions about TECH TREK please contact Carol on our CONTACT page.