Branch Highlights:
January 2018 – Hosted over 700 8th grade girls at the AAUW STEM Conference held at Yuba College
May 2018 – Awarded three scholarships to women studying STEM subjects at Yuba College
May 2018 – Sponsored seven 7th grade girls to attend the week-long AAUW TECH TREK science camp at UC Davis
May 2018 – Welcomed 350 people who attended the AAUW Garden Tour, our only public fund raising event.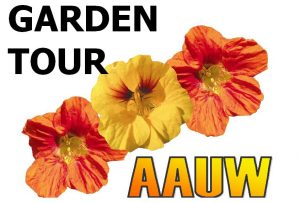 THANK YOU FOR ATTENDING THE 2018 AAUW GARDEN TOUR!
THE NEXT GARDEN TOUR IS MAY 4, 2019.
BUY TICKETS ON THIS WEBSITE AFTER MARCH 15, 2019
---
Apply for AAUW's Fellowships and Grants Today!
AAUW has a long and distinguished history of advancing educational and professional opportunities for women in the United States and around the globe. Follow in the footsteps of award-winning authors, scientists, scholars, and change makers. Apply today!
---
Women's Student Debt Crisis in the United States
This report reveals that women also take on larger student loans than do men. And because of the gender pay gap, they have less disposable income with which to repay their loans after graduation, requiring more time to pay back their student debt than do men. As a result, women hold nearly two-thirds of the outstanding student debt in the United States — almost $900 billion as of mid-2018.
---
46 Years of Title IX: Fight for Equity in Education Rages On
Women and girls still do not have equal educational experiences or opportunities.  In 1972, AAUW was at the forefront of advocating for the passage of Title IX, and we continue to fight to realize the full intent of the law, to ensure all students receive an education free from sex discrimination at every level of education across the land.  In a year where there have been rollbacks to the enforcement of the law, we need to push even harder to ensure it is protected and vigorously carried out.
---
The Simple Truth about the Gender Pay Gap
You've probably heard that men are paid more than women are paid over their lifetimes. But what does that mean? Are women paid less because they choose lower-paying jobs? Is it because more women work part time than men do? Or is it because women have more care giving responsibilities? And what, exactly, does gender bias have to do with paychecks?
AAUW's The Simple Truth about the Gender Pay Gap succinctly addresses these issues by going beyond the widely reported 80 percent statistic.
Read more.
---
Know Your Rights: Sexual Harassment and Sexual Assault under Title IX
Title IX of the Education Amendments of 1972 is a comprehensive federal law that prohibits sex discrimination in education. It covers women and men, girls and boys, and staff and students in any educational institution or program that receives federal funds. Local school districts, colleges and universities, for-profit schools, career and technical education agencies, libraries, and museums are all covered under Title IX.
Read more
---
AAUW Work Smart Salary Negotiation Trainings Now Available Across the U.S.
The AAUW Work Smart salary negotiation program that helps women hammer away at the gender wage gap will have greater reach this Equal Pay Day, due in large part to frustration with the status quo. Left on its own, the gender wage gap won't close for another 135 years, which is unacceptable and explains why numerous cities are collaborating with AAUW.
AAUW Work Smart has expanded beyond Boston, where it first launched just two years ago, to Washington, D.C.; Tempe, Arizona; and Long Beach, California.. Read more
---
4 Tips to Negotiating for the Salary and Benefits You're Worth
At AAUW we're moving the needle on the gender pay gap through our innovative research, powerful advocacy, and salary negotiation programs for women across the country. You can sign up for a workshop near you, but in the meantime here are four tips for you. Ready to get paid what you're worth? Follow these four steps to successfully negotiate your salary and benefits package. Read more.
---
Faces of Student Debt

AAUW's new research report Deeper In Debt has shown that women bare a disproportionate amount of student debt. These six women invested in themselves and their future by pursuing higher education. But those degrees came at large price. Read more.
---
Mother's Equal Pay Day
Each May, families around the country celebrate Mother's Day, honoring the special women in their lives. Yet after all the praise we heap on moms, did you know that many can expect barriers in the workforce? Mothers typically are paid only 73 cents for every dollar fathers are paid. It's called the "motherhood penalty," and it's a persistent problem for all women, not just mothers, working in America. This month Mother's Equal Pay Day is May 23. Read more.
---
GIVE A MEMBERSHIP GIFT TO A NEW GRADUATE -FREEDo you know any new college graduates? What better gift can you give than a FREE one-year AAUW membership! As an AAUW member you have the power to gift ANY number of free one-year AAUW memberships to recent college graduates. Give one, give 100, or give 1,000! Don't let this opportunity pass you by. Read more.
---
Millions of people around the globe are the victims of human trafficking in the form of sex or labor trafficking, human rights violations, etc. AAUW believes that there is a need for national and international policies against human trafficking that promote peace, justice, human rights, sustainable development, and security for all people. The State Policy Sex Trafficking Tool Kit outlines three key state policy priorities — hotline posting requirements, safe harbor laws, and vacatur laws — to identify and combat sex trafficking.Download and read more…
---