SAVE THE DATE – The next AAUW Garden Tour is
MAY 2, 2020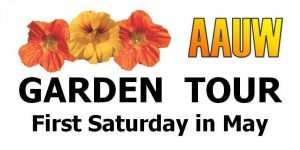 ---
---
Branch Highlights:
April 2019 – Hosted over 800 8th grade girls at the AAUW STEM Conference held at Yuba College
May 2019 – Awarded three scholarships to women studying STEM subjects at Yuba College
May 2019 – Sponsored six 7th grade girls to attend the week-long AAUW TECH TREK science camp at UC Davis
May 2019 – Welcomed more than 400 people who attended the AAUW Garden Tour, our only public fund raising event.
---
1.Fact Sheet: The Paycheck Fairness Act of 2019
"The Paycheck Fairness Act is essential to eradicating practices that have perpetuated the pay gap for far too long. In 2019, the idea that we still don't have equal pay for equal work is nothing short of outrageous. AAUW urges the 116th Congress to take this important step towards pay equity with the swift passage of the bill."
— Kim Churches, CEO, American Association of University Women
2. Get Paid What You're Worth
AAUW's renowned The Simple Truth about the Gender Pay Gap report finds women are still paid just 80 cents for every dollar paid to a man! We can change that with AAUW's multipronged economy security initiative: by changing laws, encouraging employers to improve workplace cultures and practices, and empowering women to negotiate to their financial futures by making our Work Smart program available nationwide.
Learn more about Work Smart Online and join the Members Mobilize a Million Challenge.
Additional Resources: Use the tools on the Members Mobilize a Million Social Media page to get the word out in your newsletters, on your websites, and in your social media posts
3. AAUW Action Fund Congressional Voting Record
The CVR provides information about senators' and representatives' co-sponsorship and votes. Each legislator is scored based on their record on AAUW priorities, which were decided on the basis of the AAUW Public Policy Program, adopted by AAUW members. These priorities include equal pay, education, campus sexual assault, campaign finance, human trafficking, and reproductive rights. The CVR is distributed to every member of Congress.