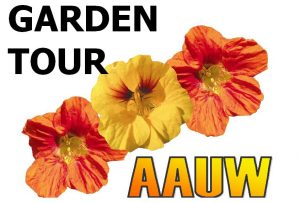 THE NEXT GARDEN TOUR IS PLANNED FOR MAY 1, 2021.  
---
19TH AMENDMENT TO THE CONSTITUTION:  https://www.nbcnews.com/know-your-value/feature/women-got-right-vote-100-years-ago-battle-equality-far-ncna1236937

TITLE 9 CHANGES – In May, 2020, the Department of Education issued a long-anticipated but extremely harmful rule designed to substantially weaken Title IX, rolling back important protections for student survivors of sexual harassment and assault. AAUW vigorously opposed this change for more than a year, but schools will have to comply beginning August 14, 2020. Now we need to work together to stop this rule from ever going into effect.
This is where you come in: Commemorate the 48th anniversary of Title IX on June 23rd by writing a letter to the editor!
Letters to the editor (LTE) in local community papers are an especially effective communications and advocacy tool. They are a great way to educate and energize advocates, reach elected officials, and spread the word about important issues while calling for change. To assist in this call to action, we have collected resources on writing, key talking points, and background information on Title IX and the proposed rule to inform your work. Use these media outreach tools to correct and clarify facts on the matter, spur news editors to cover the issue, and urge readers to support protecting Title IX.
AAUW advocates were key to the passage of Title IX and we continue to fight today to realize the full promise of the law — take action now and defend students!
Speak Up for Pay Data Reporting to Help Close the Gender and Racial Pay Gaps in California!
Despite significant progress made in California, the gender pay gap persists. California women make just 88 cents on a man's dollar, resulting in an estimated $78.7 billion in lost wages each year. And this doesn't just hurt women — it also harms families and the state's economy.Pay data collection is one important tool in the fight against the pay gap. It allows employers to spot and correct pay imbalances internally without outside intervention. Last year, the White House Office of Management and Budget announced it was halting the implementation of improved salary data collection at the federal level — but California now has the chance to enact a similar law at the state level.S.B. 973 would provide high-quality salary data to state agencies and employers, helping them to fight pay inequity. But there's a lot of misinformation out there about this bill, so it's crucial we contact our state senators to ask for their support.Improved pay data collection is good for women, families, and employers.    Contact your state senator and ask them to vote AYE on S.B. 973!
Get Paid What You're Worth
AAUW's renowned The Simple Truth about the Gender Pay Gap report finds women are still paid just 80 cents for every dollar paid to a man! We can change that with AAUW's multipronged economy security initiative: by changing laws, encouraging employers to improve workplace cultures and practices, and empowering women to negotiate to their financial futures by making our Work Smart program available nationwide.
Learn more about Work Smart Online and join the Members Mobilize a Million Challenge.
Additional Resources: Use the tools on the Members Mobilize a Million Social Media page to get the word out in your newsletters, on your websites, and in your social media posts
 AAUW Action Fund Congressional Voting Record
The CVR provides information about senators' and representatives' co-sponsorship and votes. Each legislator is scored based on their record on AAUW priorities, which were decided on the basis of the AAUW Public Policy Program, adopted by AAUW members. These priorities include equal pay, education, campus sexual assault, campaign finance, human trafficking, and reproductive rights. The CVR is distributed to every member of Congress.Read More.
https://www.nbcnews.com/know-your-value/feature/women-got-right-vote-100-years-ago-battle-equality-far-ncna1236937